Click on any post to read the full entry.
You can also click on a category in the sidebar to narrow down the posts you see.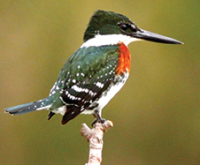 MAY 20, 2018         7:45 AM - NOON Join us for a birdwalk on Sunday, May 20 with leaders Norman Besman and Luke Rich. We'll bird from and around the bridge over the Rio Laja at Montecillo de Nieto, just past the back road into Atontonilco. The river and its banks...
read more