Parque Juárez Pollinator garden
Parque Benito Juarez is San Miguel's outdoor living room: an oasis of nature to wander, exercise and socialize.
Our garden at Parque Juarez is a habitat for pollinators: an urban home for native and migratory birds, butterflies and insects who are the unsung heroes of the natural world.
Small habitat patches throughout an urban area, create an interconnected network that can help to revive and sustain populations of birds, bees, butterflies, bats and other wildlife across our city, country, and continent.
Our garden at Parque Juárez is a habitat for people too: a special place in the heart of San Miguel to enjoy watching wildlife and the processes of life that are taking place within it.
It serves as an outdoor classroom for children in our Niños y Naturaleza program, providing them encounters with birds, bees and butterflies and a context for inspiration as they embark on planning, planting and caring for a pollinator garden at their school.
We invite you to explore the garden to learn more about the remarkable relationship between plants and their pollinators, and ways we all can help nature in the city thrive.
Come visit the garden to enjoy and learn.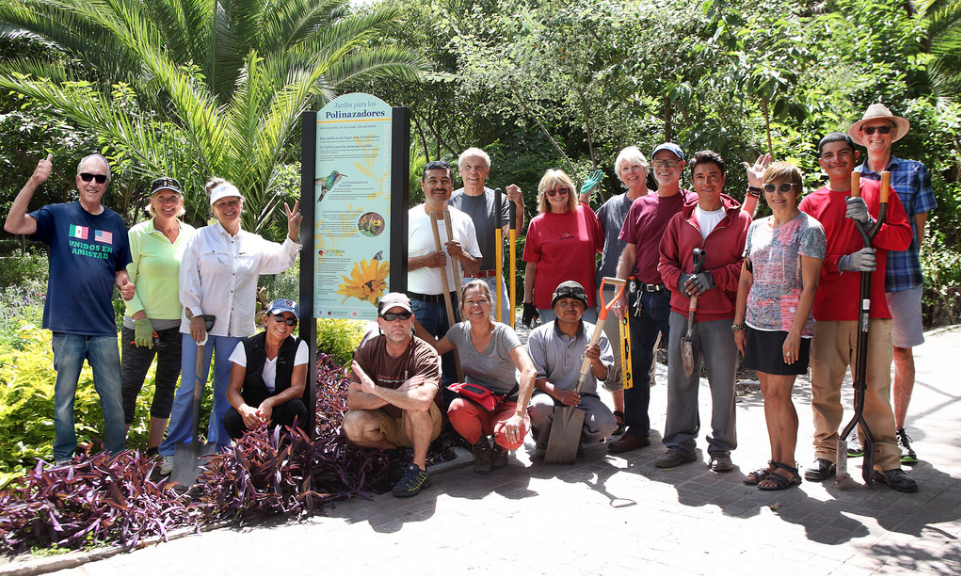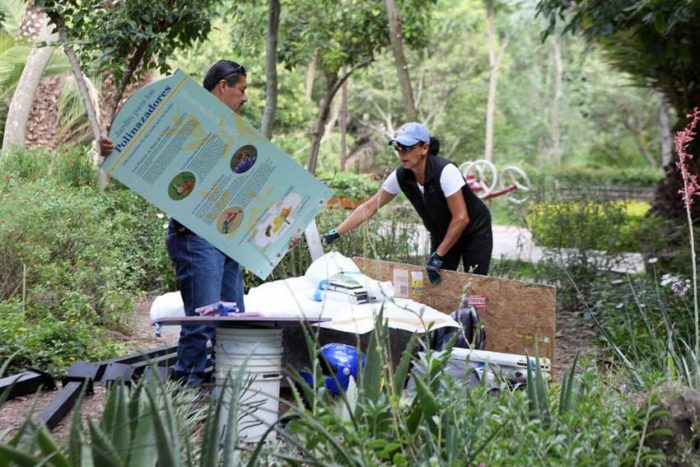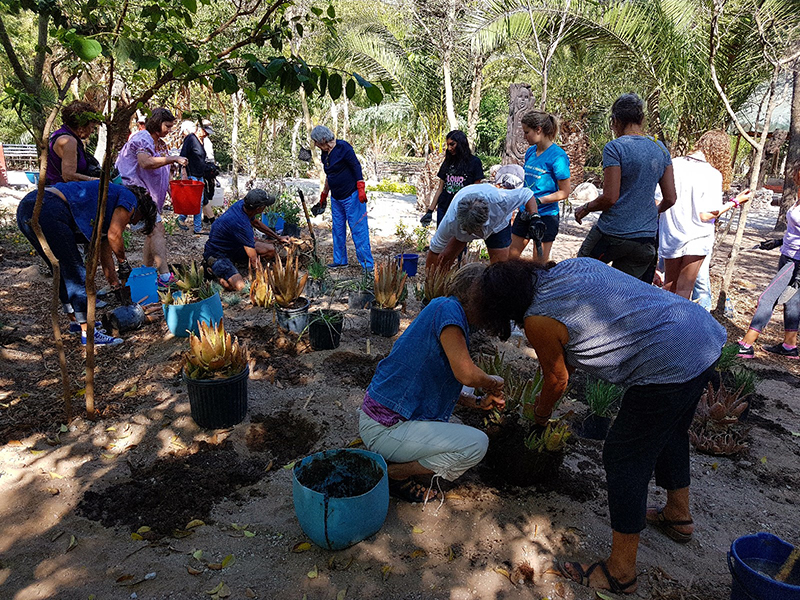 Audubon's history at parque Juárez
Audubon's relationship with Parque Juarez dates back to our very roots. This is the site where our founder, Lillian Birkenstein, witnessed children targeting nesting egrets with their sling shots and became inspired to start one of the first chapters of Audubon outside of the United States. In the 1980s, with Bob Haas as our president, we helped bring people together to revitalize the park, which had been in decline for many years. Bob also helped to form Amigos del Parque which has conducted many improvements, including the beautiful children's play area.
In 2015, Audubon transformed a small area of the park into a pollinator habitat garden. Ninety young students in Audubon's Niños y Naturaleza program and several volunteers came out to plant the garden in a single morning. But, within a few short months, the garden had declined from a lack of park resources so Audubon volunteers stepped in to bring it back to life. Since that time our volunteers have been tending the garden and hosting "Big Dig" planting days and special events to raise funds for its maintenance and expansion.
In the summer of 2017, 50 volunteers arrived at the garden for our second "Big Dig" event. Within four hours we had doubled the size of the garden and introduced new plants species and special niches to the garden, including a waystation for migrating Monarch butterflies, a beautiful succulent garden and an area featuring shade-tolerant plants.
In the fall of 2017, a garden bench was donated to garden by Caroleanne Wright. Created from cement by a local craftsman, the mosaic spiral in the center of the bench represents the journey of life. On the side of the bench you will see a small heart, which commemorates the life of the donor's son.
In 2018, 9 interpretive signs were installed, which tell the story of the garden and the importance of pollinators. Nearly 60 plant identification signs were also placed to help garden visitors learn the names of the plants so they can grow their own garden for bees, butterflies and hummingbirds.  The signs and installation were made possible thanks to grant funding from the San Miguel Community Foundation and Leigh and Charlene Hayes and Helen Boehning.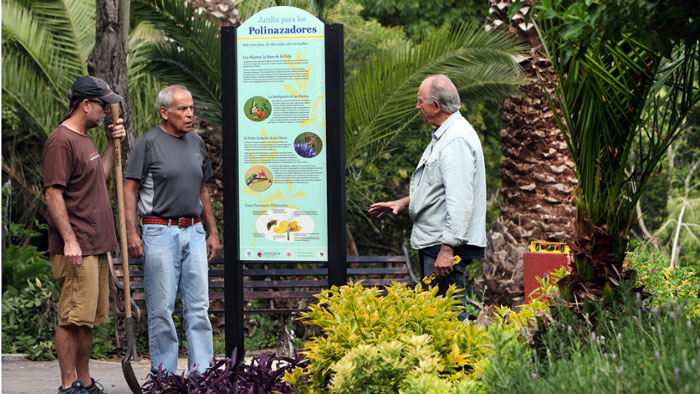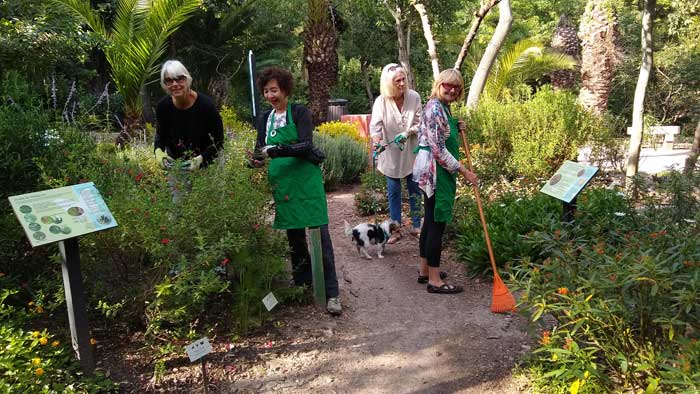 The evolution of the garden would not have been possible without our community volunteers and these generous sponsors who share our vision:
Local businesses and community organizations:
Individuals:
Caroleanne Wright: Garden Bench
Leigh and Charlene Hayes: Signage
Helen Boehning: Signage
Joanie Majerus and Dulce Heinrich: Mosaic artworks
Parque Juárez Through the years…
In 1895, San Miguel's mayor, Dr. Ignacio Hernández Macías began assembling the land to create a place for recreation and trees and plants to improve the air quality of the town.
On September 16, 1904, the park was ceremoniously dedicated to Governor Joaquín Obregón González. Originally an area for orchards and vegetable gardens nurtured by the springs of el Chorro, the new park was landscaped with trees at the entrance and sculpted hedges alongside lawns dotted with calla lilies in the interior. Decorative walls and columns surrounded the park, ornately crafted bridges provided passage over the stream and there was a field full of brilliant sunflowers, with an impressive fountain in the middle. Two large cisterns were installed, which would supply water in the event el Chorro ran dry.
The park was informally called "el Jardín Francés" because it bore a definite resemblance to the French gardens of the time. The third and current name of the park is "Benito Juárez," which was chosen immediately after the death of the Mexican president in July 1917.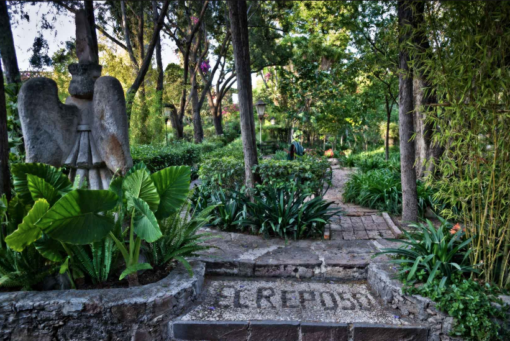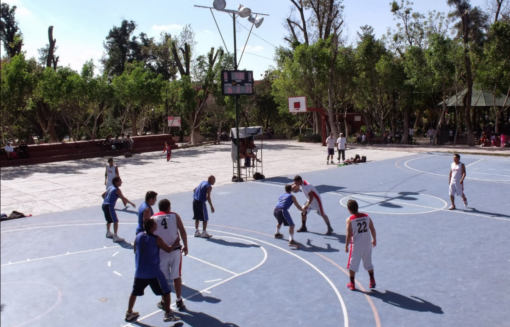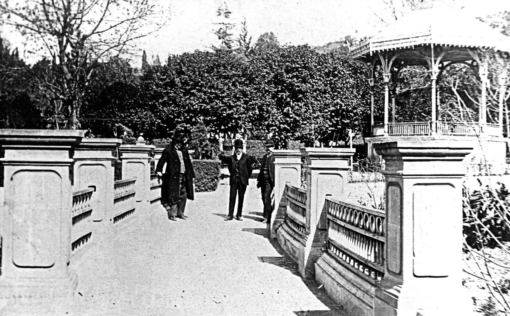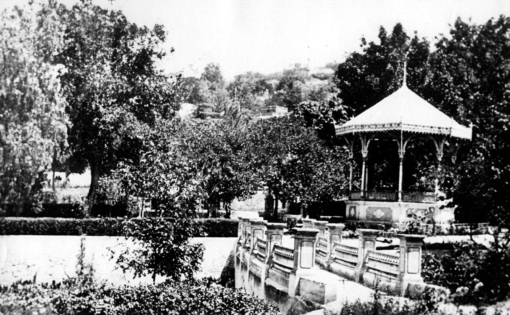 Over time the field of sunflowers dried up for lack of care, and the center fountain was disassembled to make room for an open-air theater, which was later replaced by the basketball courts in the mid-20th century.  The springs of el Chorro dried up as well, and now the stream that passes through the park is only active during rainstorms.  Although the center fountain was lost, many of the other fountains have been preserved.
Jungle gyms were put in during the 1960's, and the children's playground has been improved and expanded since, with the help of Amigos del Parque.  During the 1980s Audubon led an effort to revitalize the park by planting new trees, improving the park's pathways and installing a watering system.  During the past few years several garden areas have been improved and are well-tended and in 2018 the pathways were re-paved with stone.
Parque Juárez may not be the same as it was 100 years ago, but it is evolving, while Dr. Macías vision of a place for recreation and nature remains alive and well.  Local residents know that we must cherish and enjoy this beautiful park in the heart of the city; part of our lives in San Miguel.
We are no longer publishing our phone number or address because of security concerns.  Please contact us through email or use FB messenger for immediate questions. 
sign up for our newsletter
Our monthly newsletter will keep you up to date on our scheduled events, our work, and features monthly nature-related articles.