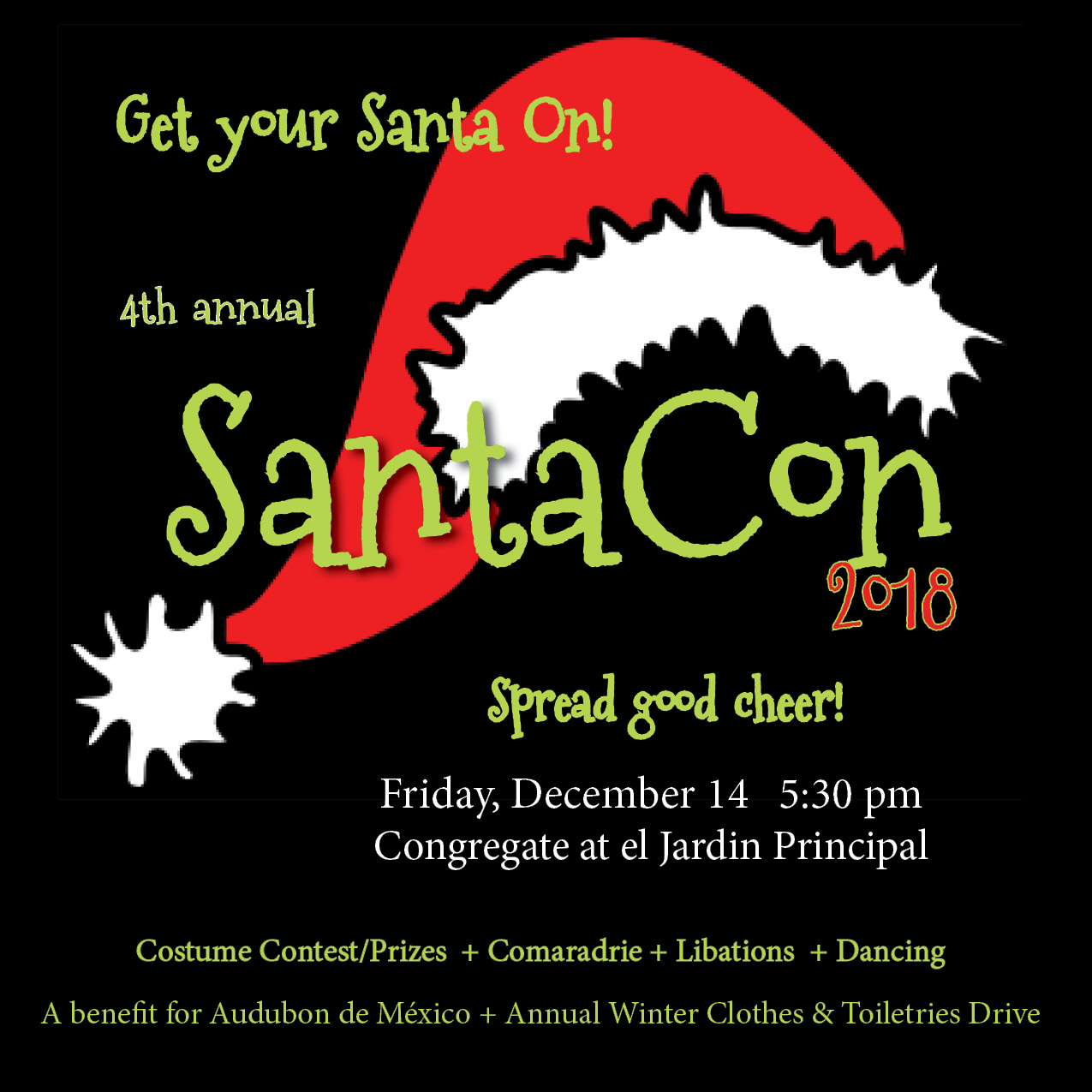 A FEW THINGS TO TELL YOU ABOUT SANTACON
SantaCon is a fun annual event for people to dress in Santa Claus and Santa's helpers costumes and frolic through the streets and locations in cities around the world.
This is much more than a pub crawl, and every time you call it that, a sugar plum fairy cries!
In San Miguel we donate  to Audubon de Mexico, gather goods for the local people living or working at our landfill and support our local bars and restaurants. We have a great time, spread cheer and goodwill and help our community too.
BENEFITS TWO GREAT CAUSES!

200p donation for Audubon de México's environmental programs (or give what you can) and collecting gifts and necessities for the families who live and work at our local landfill.
Suggested items to donate :
juice, milk, fresh fruits + vegetables, beans, rice, canned goods (in pop-up cans)

new or gently used blankets, hats, scarves, gloves, sweaters, socks

sleeping bags, tarps, tents, pillows

new, cold weather shoes for children and adults

toilet paper, feminine products, diapers, baby wipes

vicks vapor rub, vitamin C, aspirin, cough syrup, condoms

toothpaste, toothbrushes, hand + body soap, hand sanitizer, latex gloves

heavy tote bags, buckets, candles, large tub basins, rope, small tools, duct tape, sturdy work gloves 

dog food

1-gallon or 5-gallon bottles of water

for the children: notebooks, pens, pencils, coloring books, crayons, soccer balls, stuffed animals, toys (nothing battery operated please) and candy
We'll be collecting at the Jardin, so if you are thinking of donating something bulky or heavy, let us know and we will arrange to pick it up from you or you an deliver your items to:

The Studio Space, Subida al Caracol 11, on or before December 21,  on Mondays, Wednesdays and Fridays between 10 am – 3 pm. (PLEASE only bring items during this schedule.)
Join us for the merriest event of the season! 
What to Expect:  Be prepared to share your cheer with songs, merry Ho Ho Ho's and handing out treats  to children at the Jardin and as we stroll together to our destinations.
We will be collecting donations and goods (see below), spreading cheer at the Jardin and taking a group picture together in the gazebo.
We have awesome local libation specials awaiting you, music for dancing too, and then there's the infamous costume contest, too, so get your Santa on!
WHERE TO FIND COSTUMES
Bodega Aurerra or La Comer

Mercado San Juan de Dios

Variety store on Insurgentes across from Plaza Civica
RSVP – Let us know you're coming by visiting our SantaCon San Miguel de Allende event page and select Going!
Questions?  audubondemexico@gmail.com