MARCH 18, 2018         7:45 AM – NOON
The March Audubon birdwalk, led by Luke Rich, Norman Besman, Mike Wheatcroft, Michael Burns and Signe Hammer, will head to Peña Blanca, a few miles past the Presa Allende. A tree-lined stream and open farmland provide habitat for a rich variety of birds. With Spring here now but not yet up north, we'll look for lingering winter migrants like those we saw at this time last year: Lark, Clay-colored and Savannah Sparrows, Yellow-rumped and Wilson's Warblers and Blue-gray Gnatcatchers. Among the more charming Spring returnees we saw last year were Barn and Northern Rough-winged Swallows.
In the stream, we could still find wintering ducks such as Northern Shoveler and Blue-winged or Green-winged Teal. Along it we're sure to see a resident Black Phoebe, and might see our long-legged resident wader, a Snowy Egret.
Last year, the trees held some of our more colorful resident songbirds: Black-backed and Hooded Orioles, a Phainopepla, Vermilion Flycatchers and Great Kiskadees. We also saw a couple of prized flycatchers: an Ash-throated Flycatcher and a Say's Phoebe.
Birds of prey we spotted last year included American Kestrel, both Common and Chihuahuan Ravens, Turkey Vultures, Red-tailed and Red-shouldered Hawks, a Northern Harrier and a Crested Caracara.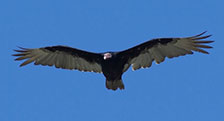 The walk is open to all birders, beginning and experienced alike. Wear comfortable, sturdy walking shoes and bring water and a hat. We'll have our Audubon de México bird guide, Birds of San Miguel—with 81 species commonly found in the San Miguel area—for sale. Our guides carry telescopes so that everyone can see distant birds clearly, and we'll also have a few pairs of binoculars to lend.
Carpooling is essential, so if you have a car, please bring it. Plan to arrive at 7:45, as we leave promptly at 8. You'll be back about noon, with new entries for your life list and new birding friends.
Steady rain cancels.