AUGUST 19, 2018    7:45 AM – NOON
Join leaders Norman Besman and Michael Burns on Sunday, August 19 for a birdwalk along the Rio Laja, near the Cieneguita bridge on the road to Guanajuato. In addition to the wooded river trail, we'll find farmland with big trees and lots of sky for raptors. We usually walk to the ruins of a colonial-era bridge that was part of the Camino Real, the Royal Road built to move silver from mines to shipment points.
August is a great time to learn about our many species of year-around resident birds, before the fall migrants begin to arrive. Along the river, we'll look for such large resident waders as White-faced Ibis and Great or Snowy Egret, and we're almost sure to find Cattle Egrets in the fields. In the water, we could find resident Mexican Ducks—a variety of Mallard without the green head—and American Coots.
In the fields and trees, late summer promises a look at such local songbirds as the brilliantly colored Blue Grosbeak or the elusive Say's Phoebe, with its lovely peach-colored belly (easy to confuse with the female Vermilion Flycatcher, which also sports a beautiful peachy belly—unless she's young, in which case it's more yellow).
We're also likely to see the bright-red male Vermilion Flycatcher, and hear as well as see our large, raucous Great Kiskadee, with its black-and-white circular-striped head and bright yellow front. Another bird we'll hear is the Golden-fronted Woodpecker, fussing up a tree or calling to its mate. A softer sound would be the lovely trill of our shy Bewick's Wren, with its white "eyebrow" and, like all wrens, a horizontally striped tail.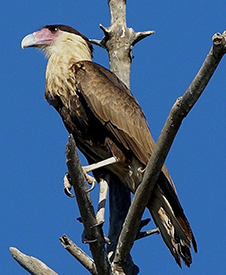 Keeping an eye on the sky, we could spot a Common Raven, a White-tailed Kite or a Crested Caracara, the big, native falcon that eats carrion and often beats low and straight along the horizon.
The walk is open to all birders, beginning and experienced alike. Wear comfortable, sturdy walking shoes and bring water and a hat. We'll have our Audubon de México bird guide, Birds of San Miguel—with 81 species commonly found in the San Miguel area—for sale. Our guides carry telescopes so that everyone can see distant birds clearly, and we'll also have a few pairs of binoculars to lend.
Carpooling is essential, so if you have a car, please bring it. Plan to arrive at 7:45, as we leave promptly at 8. You'll be back about noon, with new entries for your life list and new birding friends.
Steady rain cancels.
Audubon Birdwalk
Sun, August 19 7:45 am-Noon
Meets in front of Instituto Allende
Ancha de San Antonio 20
Michael Burns, 152-1141
Members free, non-members 200 pesos or US $10