JUNE 17, 2018        8:00 AM – 11:30
Please note special meeting place and time. To accommodate the annual Locos Parade, on Sunday, Audubon de México's June birdwalk will meet at 8 a.m. inside the main entrance of San Miguel's beautiful botanical garden, El Charco del Ingenio. Taxi drivers will know how to get there from Centro. With leaders Norman Besman, Luke Rich, Mike Wheatcroft and Michael Burns, we'll explore a variety of habitats.
This is an interesting time to visit El Charco. The reservoir dries up in the spring and refills very quickly when the summer rains come. If it's still dry on the 17th, we can walk right across the floodplain. Last year, we found an Eastern Meadowlark and a gorgeous Blue Grosbeak there, plus ground-nesting Killdeer. If we're lucky, we may get to see a Killdeer perform its broken-wing routine to lure us away from its nest.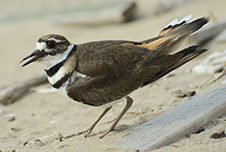 June is a good time to find other nests, from the tiny ones built by Verdins and Bushtits to the football-size-and-shape Cactus Wren's. Not surprisingly, given its name, the Cactus Wren frequently nests in a cactus—often the Garambullo, with its upside-down-candelabra shape perfect for wedging in a nest made of dried grass.
Some rare birds have turned up in El Charco recently, including Gray Silky-flycatchers and Rufous-crowned Sparrows. Last year, the dried floodplain attracted Greater Roadrunners, another rarity. And, in addition to our common, resident Broad-billed and Violet-crowned Hummingbirds, last year we spotted a gorgeous, much rarer Magnificent Hummingbird. We also found an elegant Phainopepla, our brilliantly colored Hooded Oriole and a bubbling Curve-billed Thrasher.
In the sky, soaring or flying, last year we spotted a Crested Caracara, a beautiful White-tailed Kite, a Turkey Vulture, a Common Raven, a Black-crowned Night Heron and all three species of resident Egret—Great, Snowy and Cattle—not to mention a White-face Ibis.
At the end of the walk, you can enjoy a refreshing drink (try a fruit-blend liquada) and snack or lunch at the excellent café, and browse in the well-stocked tienda (shop). When you're ready to leave, the folks at the reception desk can call a taxi for you.
The walk is open to all birders, beginning and experienced alike. Wear comfortable, sturdy walking shoes and bring water and a hat. We'll have our Audubon de México bird guide, Birds of San Miguel—with 81 species commonly found in the San Miguel area—for sale. Our guides carry telescopes so that everyone can see distant birds clearly, and we'll also have a few pairs of binoculars to lend. Plan to arrive a few minutes before 8. Steady rain cancels.
For more information, go to the Audubon website at: http://www.audubonmex.org/. For more information on El Charco del Ingenio, visit its website at http://www.elcharco.org.mx/Ingles/index.html.
Audubon Birdwalk
Sun, June 17, 8am-11:30am
Meets at El Charco del Ingenio inside main entrance
Michael Burns, 152-1141
Admission fee: 50 pesos
Walk: Audubon Members free, nonmembers 150 pesos or US $8.50