Helping Students and Young Professionals Take Flight
Meet Eugenia M. Sentíes Aguilar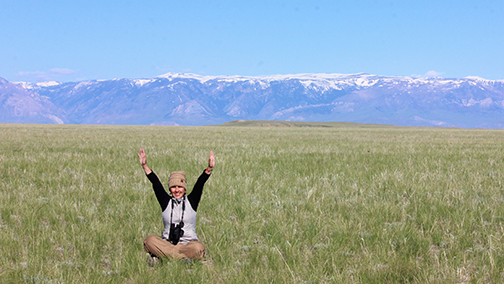 Originally from Xalapa, the capital of Veracruz, Eugenia M. Sentíes Aguilar is a biologist by profession and a teacher in biological sciences. Her story with birds began several years ago with the opportunity to participate in various bird monitoring projects in different parts of the country and abroad. Her first job was monitoring the magnificent raptor migration in her home state. Later, she worked monitoring other groups of birds, which expanded her knowledge of the methods of studying these vertebrates.
We first met Eugenia in 2013 when she was introduced to us by a friend and resident of Patzcuaro, Georgia Conti, a passionate birder and a mentor to youth in their pursuit of academic careers in biology and ornithology.  Through Georgia we became aware of a unique opportunity for Eugenia to study in Portsmouth, UK, resulting in Audubon de Mexico providing her with some financial assistance for her travel and living expenses.
After completing her studies in the UK, Eugenia returned to Mexico and went on to obtain a postgraduate degree.  In her words, her thesis investigated the magnificent and unparalleled family of birds, the hummingbirds, and their evolutionary relationship with flowering plants.  During this time, she added one more layer to her education: learning the skill of banding hummingbirds, passerines, diurnal raptors and owls.
In 2014 she was invited to give a talk on her master thesis at the first annual Hummingbird Festival in San Miguel de Allende, which also provided her opportunity to meet fellow students and experts in the field of hummingbird research and conservation.
In 2018, Eugenia had an opportunity to take part in a Long-billed Curlew (Numenius americanus) field monitoring project in Wyoming, USA, led by Jay Carlisle, research director at the Intermountain Bird Observatory (IBO), based at Boise State University.
Long-billed Curlews are migratory birds that breed in the Intermountain West region of the United States and migrate in the winter to northern Mexico and California's Central Valley.
Jay Carlisle has been studying Long-billed Curlews since 2009, primarily in Idaho where they are listed as a Species of Greatest Concern.  In the summer of 2018 he initiated a new monitoring project in Bighorn Basin, Wyoming, where curlews are a species of conservation concern.  By monitoring their migration and nesting success he is attempting to identify the threats responsible for curlew population decline and form conservation partnerships for curlews across Canada, the US and Mexico.
Eugenia was hired to participate in the 2018 Wyoming study as a member of the field research team.  Audubon helped to defray some of Eugenia's travel costs, believing that this opportunity would provide her with invaluable field experience. Her work included placing satellite transmitters on the curlews to help researchers locate their wintering sites and the months of hard work achieved great results.
After returning to Mexico from her Wyoming field experience, Eugenia created two videos for Audubon de Mexico. The first beautifully captures her Wyoming field experience and the second is a short film she created to invite our Ninos y Naturaleza students, and every person, to become captivated by birds and concerned for their welfare.
Long-billed Curlew Monitoring Project
Summer of 2018  
Video by Eugenia M. Sentíes Aguilar
Eugenia created this video of her Long-billed Curlew monitoring experience in Wyoming. It begins with a beautiful introduction to the Wyoming landscape where the project took place. The video transcript in English is located below the video.

Video Transcript in English
1.  The Long-billed Curlew is a large shorebird that breeds in the United States and Canada, and spends the winter in the southeastern United States and northern Mexico.

2.  The Mountain Bird Observatory (IBO), a research and outreach program for conservation purposes at Boise State University, Idaho, began a project to monitor the reproduction of this species 10 years ago, to Dr. Jay Carlisle's charge. This bird is at risk due to habitat loss and poaching.

3.  The Northwest of Wyoming is a study site for the Long-billed Curlew, in the large grasslands of the Bighorn Basin, in areas belonging to the United States Bureau of Land Management.

4.  The monitoring consists in observing the arrival of the birds from their wintering sites and recognizing the couples formed based on courtship, coupling and nesting behaviors, in order to find the largest possible number of nests.

5.  The sex of the Long-billed Curlew is very important for this activity, identified by differences in body size and in length and shape of the beak. The female is larger with a longer beak, while the male's beak has a more pronounced curve.

6.  After mating, each couple selects their nesting site and, once the nest is completed, the female incubates the eggs during the day and the male overnight. Thus, after a month, chicks are born.

7. And like all parents, aggressive behavior in defense of the offspring is present.

8. Some Long-billed Curlews are captured with the purpose of placing satellite transmitters, which generate valuable information on migration routes, migration times and characteristics of the wintering sites of this species. For example, recording a female traveling to central Mexico, the southernmost wintering range known.

9. Before placing the transmitter on the bird, morphological data and DNA samples are  taken, and an aluminum ring with a unique code that identifies the individual is placed on the bird.

10. With this project, the IBO seeks an international collaboration with Mexico, with the main objective of broadening the knowledge of the Long-billed Curlew wintering sites, in order to develop conservation strategies.

11. The technique called leg loop harness is used to place the transmitter, and it is fixed on the synsacrum of the bird, that is, on the lower back. This process takes about 40 minutes, with the utmost care and considering first of all the bird's well-being. Dr. Carlisle has deployed transmitters for 5 years and has achieved successful results.

12. The life of the transmitters is 3 years, so after collecting data during this period, they are removed from the birds. Each year individuals return to the same breeding sites, so their capture to remove transmitters is possible.

13. On the IBO website, individuals carrying transmitters can be tracked and sightings can be reported, so we can contribute to the important work of this investigation.

14. After an arduous field work with my friend, Madeline Voshell, a nesting success rate close to 80% was found, placing this area of ​​Wyoming as an important habitat for the species. In addition, the removal of two female transmitters with successful nests, outreach activities and the publication of an article in a local newspaper, added to the products of our study.

15.
My sincere thanks to Jay Carlisle for this opportunity, to TempeRegan, Madeline and Heather Hayes for the support and shared moments, as well as to all the staff who contributed to an unforgettable stay. The IBO team is extraordinary, concerned every day to disseminate their research, establishing a connection between the scientific community and society for conservation.
Las aves poetas al vuelo

Video by Eugenia M. Sentíes Aguilar
Please contact us through email or                    FB messenger with your questions!
sign up for our newsletter
Our monthly newsletter will keep you up to date on our scheduled events, our work, and features monthly nature-related articles.