The Rio Laja Trail is a walking and biking trail following the banks of the Rio Laja in San Miguel de Allende, Guanajuato, Mexico, from the Presa Ignacio Allende to approximately Dolores Hidalgo; spanning 32.43 miles (51.9 kilometers). The trail is based upon foot paths that have been established by rural residents over many years.
 Community volunteers, helped to map and document the trail and important waypoints to promote recreational use of the trail system for exercise, viewing birds and wildlife and enjoying the quiet and beauty of nature. We also hope to raise awareness of the importance of the Rio Laja as a water resource in the San Miguel municipality and the need to protect and restore this fragile waterway.
The Rio Laja Trail Guide consists of 12 sections of river trail. Each section is roughly two to three miles (3.2 – 4.8 km) in length. Within each section you will find directions to the trailhead, a narrative describing the conditions of the trail, and wayfinding points that will help to guide you. The Rio Laja Trail Guide is available in various formats:
Printable Trail Guide:
You can view printable PDF version of the guide for each of the sections, below, with or without photos. Within each PDF you will find a description of the trail, trailhead access and wayfinding points.
Online Trail Guide:
You can view the Rio Laja Trail virtual track and trail maps, along with pictures and descriptions at
alltrails.com
 (enter Rio Laja Trail in the search bar on the home page). You can also download GPS coordinates into your personal GPS unit or your phone from the site.
The Alltrails site
is also intended to be used as a community forum, where users can comment on their trail experience, note corrections to the guide, or report environmental issues. We will continuously monitor reviews and comments and make any updates or investigate issues as they arise.
Important Information:
During high water season, you may find yourself traveling on private property. These are customary routes, but please be respectful and stay on the trail.
Trails recommended for biking (mountain bikes only) are denoted in each section below. Keep a close eye out for variable trail conditions and low branches or cacti.
Please leave a light footprint when using the trails and pack out everything you bring in.
Happy Trails!

NOTE: Enter Rio Laja Trail into the search bar on the Alltrails home page.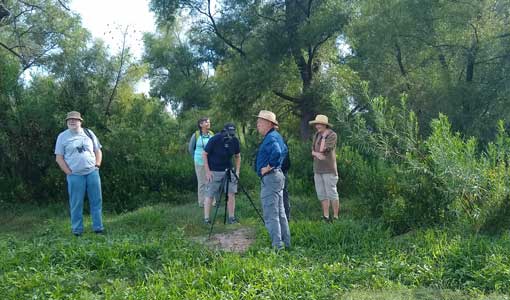 This project was completed with the help of project coordinator, Sara Pfeifer; Gordon Fulton who helped map and develop our everytrail.com site; and a number of San Miguel volunteers who helped to survey, map and photograph the trail. We offer a huge thank you to each and every one of you who helped us to accomplish this project!
Alice McCartor
Ann Garland
April Gaydos
Beverly Van Zandt
Bob Brown
Chris Kellogg
David Scarratt
Ginger Robbins
Glenn Gaskins
Gordon Fulton
Jenn Sturiale
Jock Furgeson
John and Sharon Doherty
Josh Feinberg
Kathleen Bennett
 Kimberly Fairbanks
Lorna and John Ferguson
Luke Rich
Mark Winderman
Mike Lambert
Nancy Mazur
Nick Warelis
Norman Besman
Patricia and Joe Miller
Preston Engebretson
Renny Ashleman
Rick Wendling
Ruth and Collier Kear
Susan Page
Susanna Turino
Rio Laja Trail Printable Trail Guides
Please contact us through email or                    FB messenger with your questions!
sign up for our newsletter
Our monthly newsletter will keep you up to date on our scheduled events, our work, and features monthly nature-related articles.