Audubon de México
Hooray for Trees!
What's Happening Summer of 2021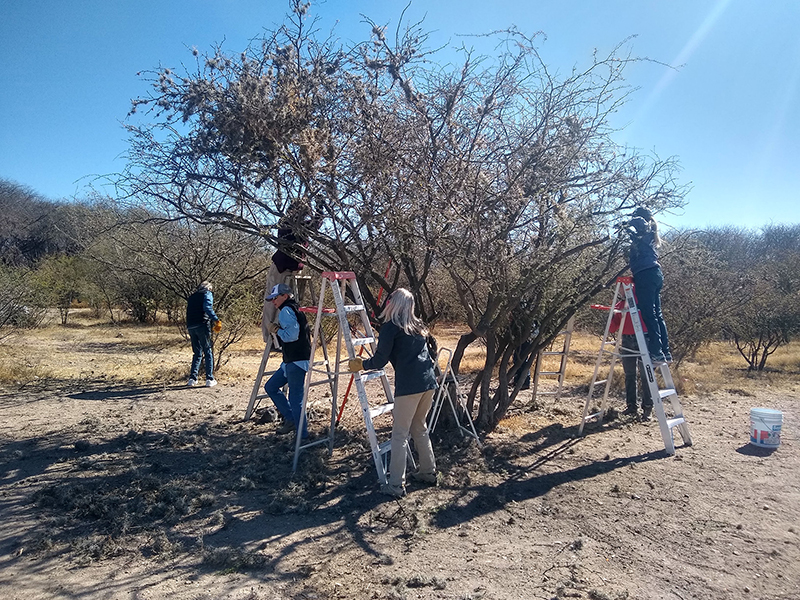 NATIVE TREES NEED OUR HELP
Our native Mesquites and huizaches are plagued by an air plant called Paxtle (la plaga).  They need our community's help right now to restore them to health, so they may thrive, reproduce and continue providing their essential ecological services.
Upcoming tree cleaning events:  Saturday, September 11 and Sunday, September 12.
Get involved!  Together we can save our trees.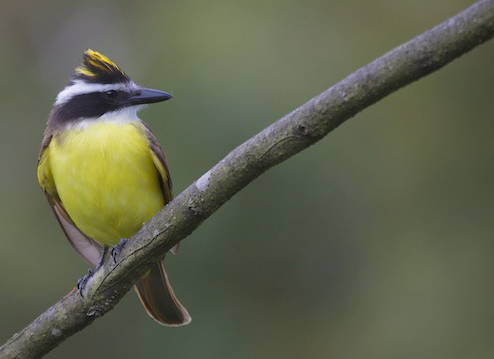 JOIN US FOR A BIRDWALK
Sunday, September 19
7:45 am – noon
Take a walk on the wild side with our knowledgeable bird guides, Norman Besman and Luke Rich, to enjoy a wonderful morning exploring an area along the Rio Laja  and viewing the abundant birdlife and summer wildflowers.
Pre-registration required.
gardening for wildlife

the best time to plant is summer, or in other words, right now!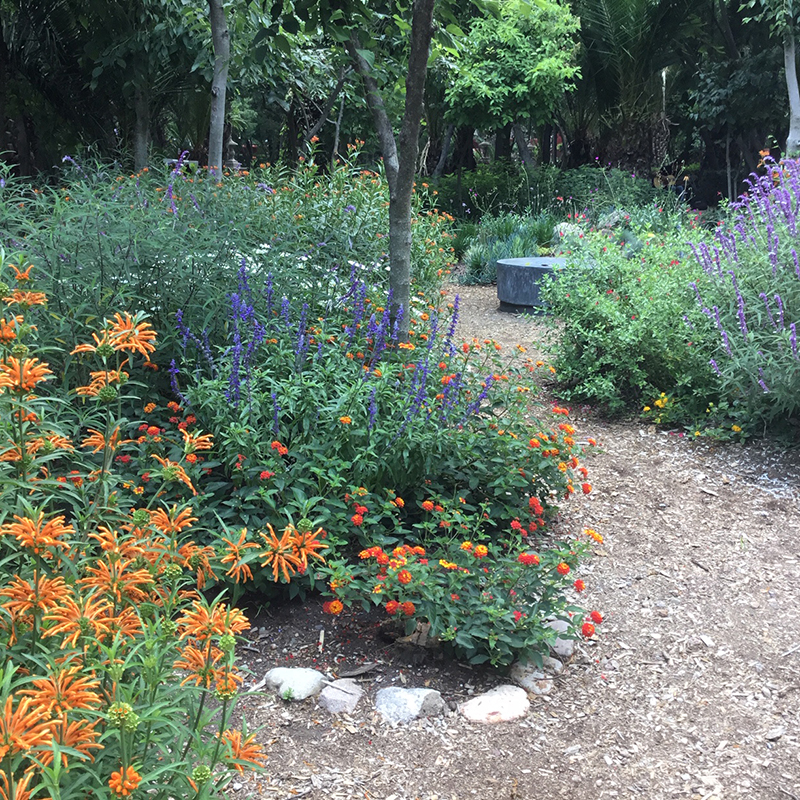 Attract Birds, Butterflies & Other Wildlife to your Garden
Information about plants, planting, resources and other good things to know about making your garden wildlife friendly.
Watch Ecologist Amanda Schnochet
An inspiring Ted Talk about how Amanda found a glimmer hope for the future by studying how bumble bees survive by navigating small urban land patches… and learned that even one passionate gardener can make a positive impact.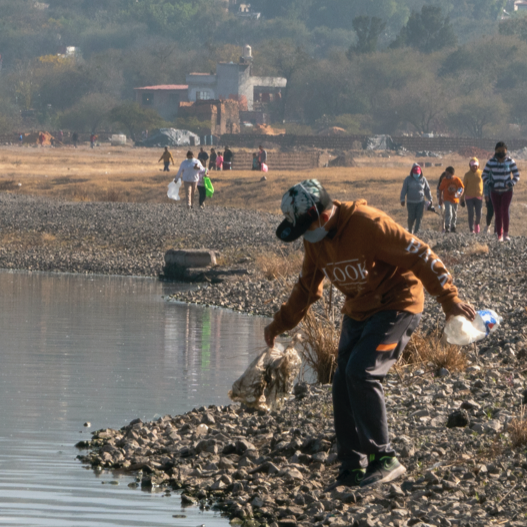 February 2021
A huge turn out of over 150 volunteers from the community of Pantoja resulted in nearly a mile of shoreline cleaned up along the Presa Allende.   This event was organized by Audubon's Amigos de la Presa who have been promoting the recreational and environmental benefits of the Presa Allende for over a decade and hosting  shoreline clean ups for the benefit of people and wildlife.
Way to go!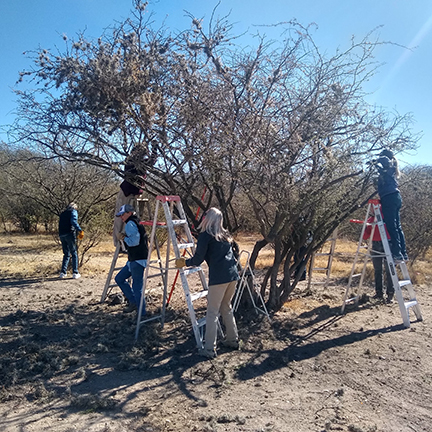 February 2021
On a beautiful February morning, 60 volunteers came out to clean up "the Peninsula" located near San Miguel Viejo. 
Breaking up into two groups, with one tackling the trash and the other trimming the trees of Paxtle, an air plant that is threatening the health of our native Mesquites and Huizaches, we cleaned 1/2 a mile of shoreline and saved 30 trees!
March 2021
Faithful volunteers have been maintaining the Audubon Pollinator Garden at Parque Juarez all through the time of COVID and enjoying the multiple benefits of weekly does of Vitamin N.  With the help of additional fantastic volunteers we now have the beautiful beginnings of two rain gardens to capture rainwater and help it seep into the ground.
April 2021
Once there was a big bare wall looming over our garden area at one of our Ninos y Naturaleza schools.  
But now, with a great many thanks to artist Elisa Alaya and students, teachers, school principal and Audubon volunteers – the wall went from plain and bare to vivid and full of life. 
Thanks also to Bill Butler, Nature Myth Designs, for sponsoring the paint and encouraging this project!  A great way to celebrate Earth Day and a source of inspiration for students that will be appreciated for years to come.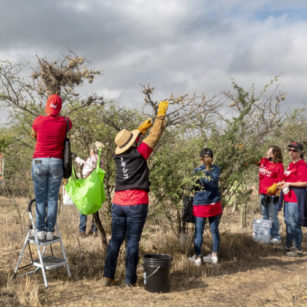 May 2021
Each year associates of local realty company Keller Williams SMA volunteer to make something great happen in San Miguel de Allende.  This year, at their Red Day event, nearly 70 team members cleared away trash and removed Paxtle from 37 trees at "the Peninsula."  More trees saved thanks to the great people at KW-SMA!
And now, when you come out to clean trees your arms will be protected thanks to their generous contribution of 35 leather sleeves (designed by Audubon/Amigos leader Stella Nielsen and made locally).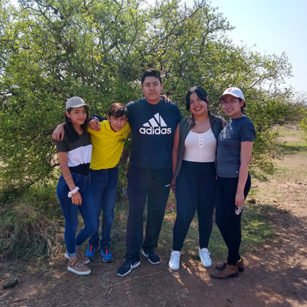 May 2021
With help from San Miguelense Chingón, San Miguel de Allende's  youth volunteer corp, we assessed a representative sample of native Mesquites and Huizaches at Parque Landeta.
Our findings:  an estimated 90 percent of the trees throughout the park are at risk because of an infestation of Paxtle.  Our Save our Trees program intends to take on the Paxtle plague
ninos y naturaleza program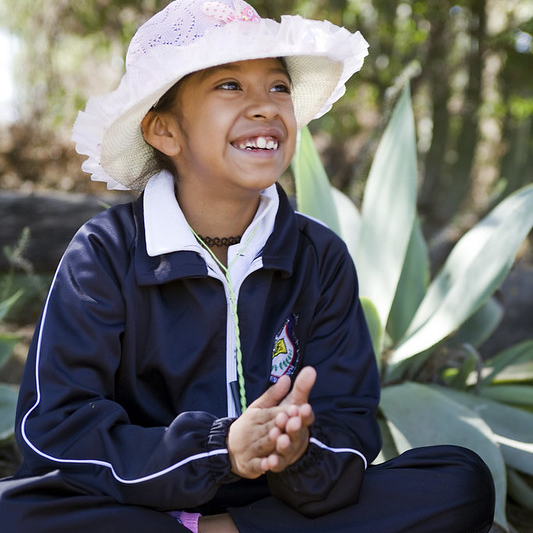 Taking our students outdoors where nature lives, to learn and to engage them in experiences that change their perspective of the world around them.  We are READY and EXCITED  to be with our students again when it is safe to gather together again.    Read more about Ninos y Naturaleza program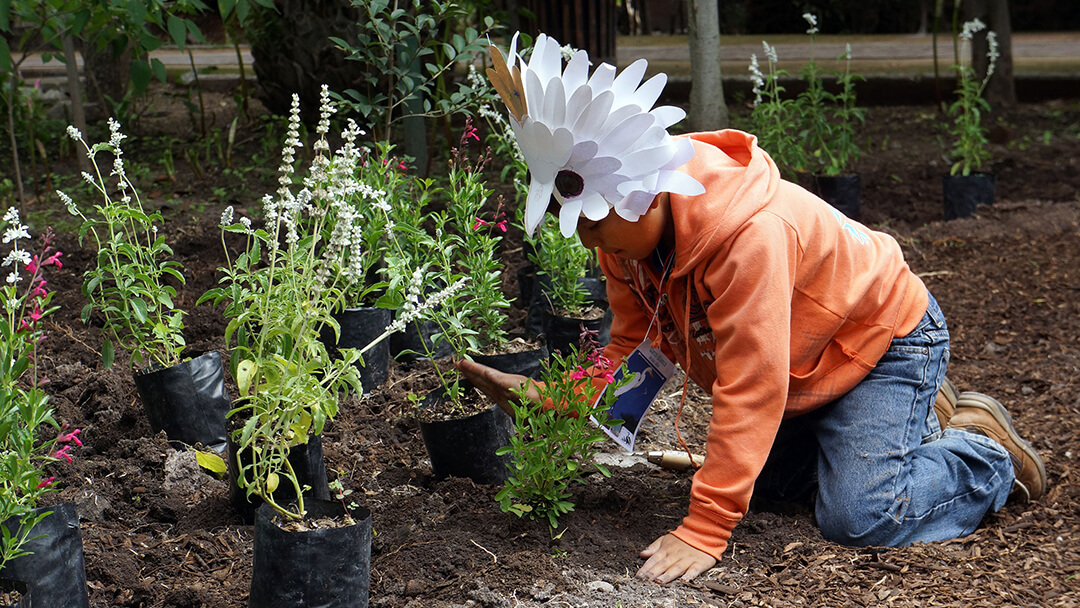 Kids need nature
VITAMIN N.  Kids who have made positive connections with Nature are happier and healthier and more empathic, mindful and empowered to shape their future. They do better in school, too!
Take a minute to read this Mexican study showing that children who grow up feeling close to nature are happier and more likely to care for the planet than those who suffer from 'nature deficit disorder'.  Read all about it.
The film "The Beginning of Life,"  explores how connections between children and nature can help us tackle the greatest challenges facing humanity today and help us lead healthier and more satisfying lives.   Available on Netflix.      Watch the trailer now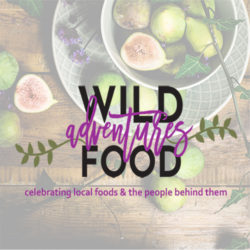 Wild Food Adventures will resume in the fall!  We'll visit local producers and learn about their craft or enjoy a meal in special settings featuring local foods, chefs and presentations on various topics centered on healthy, sustainable foods.  Proceeds from our Wild Food Adventures support our programs.
Where there is water, there is life.
June 2021
Despite our historically low level of water in the Presa Allende, the good news is that kayakers are still able to enjoy time on the water and birds are continuing to find it a haven.
We have seen Roseate Spoonbills and American White Pelicans all year around this year, congregating in the remaining water of the Presa Allende.  Most recently, a pair of Woodstorks arrived to feed in a wetland that formed (almost overnight) in a field next to the Rio Laja.  How in the world do these birds detect the appearance of a wetland within a matter of a few hours?  A good question!
Roseate Spoonbills do not appear on range maps as residents of our area, yet we often see them at the Presa during all times of the year, when the water level provides the feeding habitat they require. They wade in very shallow waters and swish their long spoon-shaped bills back and forth hunting for aquatic insects, small fish and crustaceans.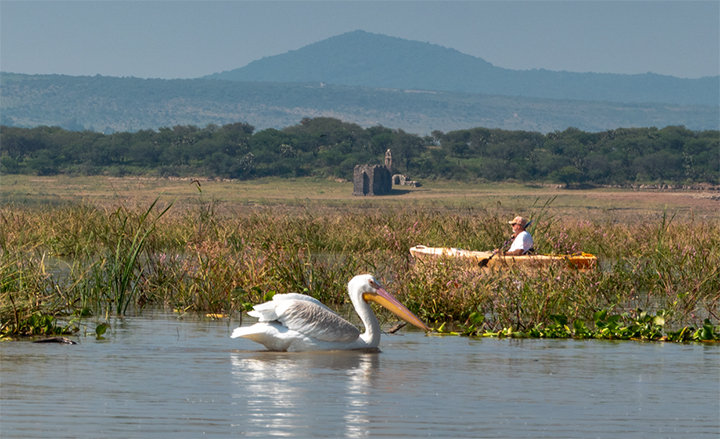 American White Pelicans, one of the largest birds in North America, have established a fairly stable population of 150-200 birds in the Presa Allende over the past few years.  They feed in shallow lakes and wetlands.  Although range maps do not show San Miguel as a year-around habitat for AWPs, we believe that most of these birds do not migrate to northern breeding areas.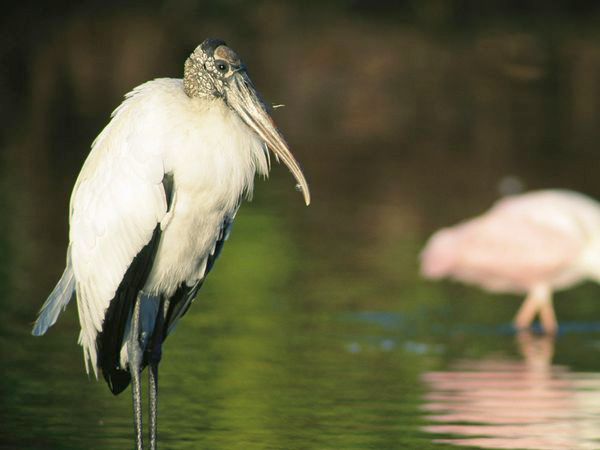 Wood Storks look rather pre-historic with their scaly heads and large, thick downward curved beak.  They hunt for fish and amphibians, often in groups, by wading through shallow water with their open beak placed below the surface.  When they feel their prey, they snap their beaks closed in less than a quarter of second.  In flight their neck and legs are fully extended, but at rest on the ground they have their neck tucked in.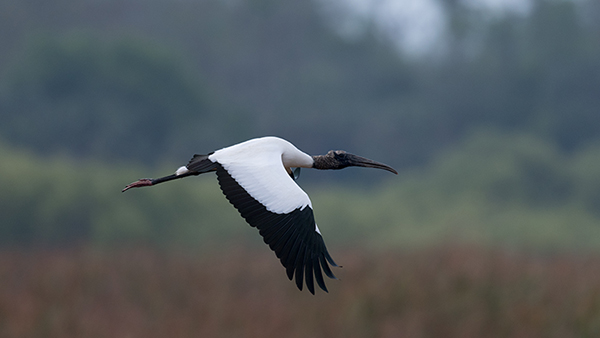 Please contact us through email or                    FB messenger with your questions!
sign up for our newsletter
Our monthly newsletter will keep you up to date on our scheduled events, our work, and features monthly nature-related articles.